IAQ Testing for LEED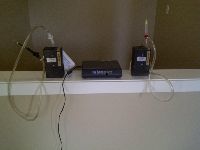 The Leadership in Energy and Environmental Design (LEED) Building Rating System, administered in Canada by the Canada Green Building Council (CaGBC), includes credits for indoor air quality (IAQ) management, which are intended to reduce IAQ problems resulting from construction or renovation to promote the comfort and well being of construction workers and building occupants.
LEED Environmental Quality Credit 3.1 (EQc3.1) is titled "Construction Indoor Air Quality Management Plan: During Construction", and requires the development and implementation of a management plan to protect building materials and systems during construction.
LEED Environmental Quality Credit 3.2 (EQc3.2) is titled "Construction Indoor Air Quality Management Plan: Before Occupancy". LEED Credit EQc3.1 can be gained through two options: Flush Out or IAQ Testing. In practice, many projects are dealing with tight deadlines, and do not have the time necessary to complete a Flush Out. Therefore, many LEED projects are turning to the IAQ Testing Option to achieve EQc3.2.
LEED Credit EQc3.2 requires a project to demonstrate that the measured levels of five IAQ parameters are less than maximum contaminant criteria. The five IAQ parameters measured for LEED EQc3.2 are Total Volatile Organic Compounds (TVOC), Formaldehyde, Airborne Particulates (PM10), Carbon Monoxide (CO) and 4-Phenylcyclohexene (4-PCH).
Christopher Collett and Associates Ltd. has now provided IAQ consulting and testing for more than 30 LEED projects throughout Western Canada.